Pizza in the oven, now it is the main way to prepare pizza. I remember the Russian stove, and again reminded of Italian cinema where they bake pizzas. Well, what it looks like our ovens. Only in the days when we still did not have electric or gas ovens, pizza that is we just do not know.
Certainly still one of the main ways to cook a pizza - this is the pizza in the pan.
But now as we do not prepare them and what does not cook. And the pizza in the oven, and multivarka and with sausage and cheese, and pickles, and olives, and mushrooms, in common with all that is.
How to cook a pizza at home. Recipes for delicious pizza
I already wrote about the pizza, but the pizza here is mainly in the oven, and of course all the new recipes. And the old, there are links in this article. Well, let's start and we'll see how it all turns out.
Menu:
Pizza dough
Pizza recipe in the oven at home with sausage and cheese
Simple and tasty pizza recipe in the oven
Home-made pizza recipe in the oven with photos
Video - How to cook a pizza Quickly
Video - TOP5 ways to make delicious pizza
Pizza from puff pastry in duhovke- recipe with a photo
Video - Quick Pizza from puff pastry with chicken in the oven at home
Video - Pizza from puff pastry
Five recipes for delicious pizza - mostly in the pan
Pizza dough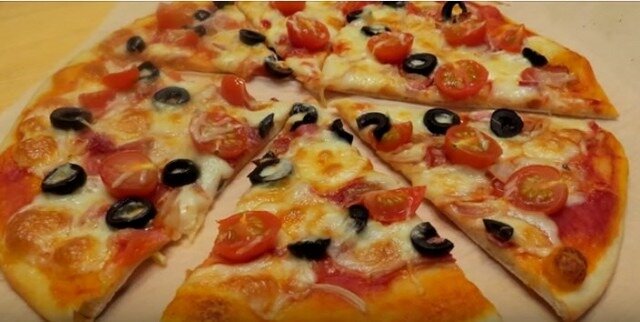 Currently we have pizza so widespread that even the kids know about it. And it would seem, well, what's the big deal? Roll the cake, put there all that lying around in the fridge, so the stove. No, it's not so simple. All products must be naisvezhayshaya, and the dough is the main ingredient. Read more…..
Pizza in the oven at home. Recipe with sausage and cheese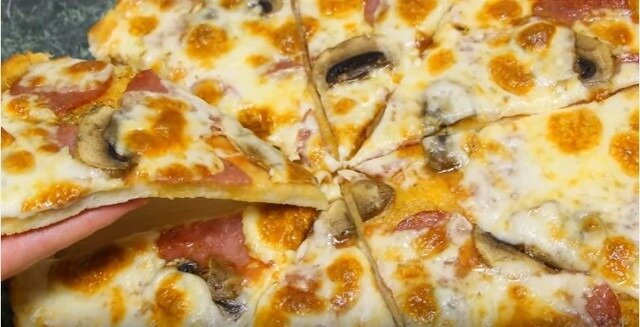 Ingredients:
For the dough: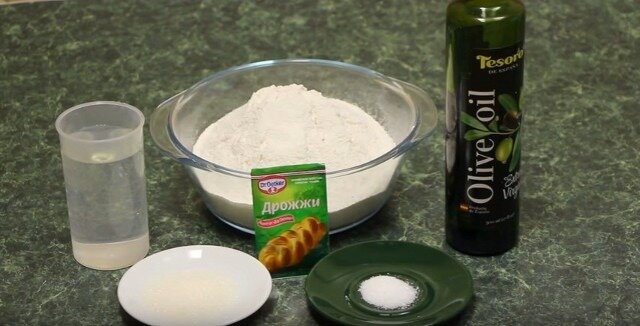 Flour - 600 g
Water - 300 ml. 30-35 °
Yeast - '30 '10 fresh or dry
Sugar - 1 tbsp
Salt - 1 tsp
Olive oil - 4 tbsp
For filling: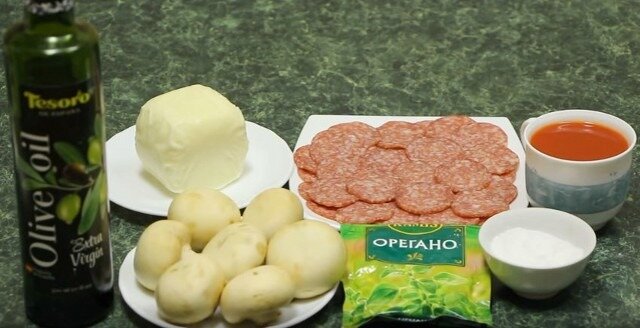 Tomato juice is better to take more densely
Salt
Oregano
salami
Mozzarella cheese
Champignon
Olive oil
Pizza cooking in the oven: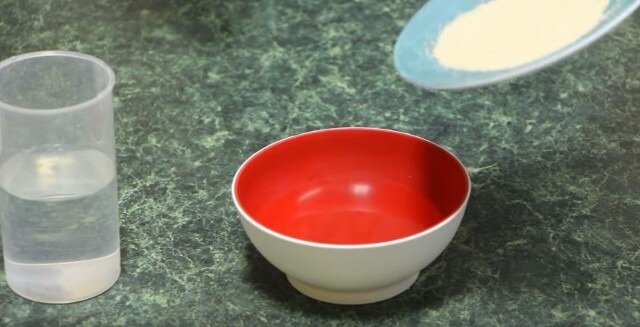 1. The cast 100 ml. hot water to a small cup of water and filled into yeast, add sugar spoon. All the mix.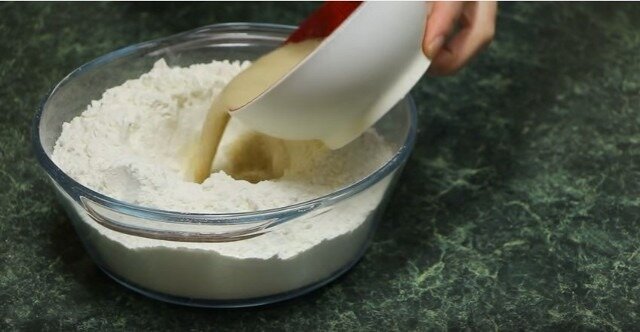 2. In a deep bowl pour pre-sifted flour. In the center of the flour slide recess. Poured into this recess divorced yeast.
3. Slowly add the yeast to the flour and stir, add flour a little, but only so that it is mixed with yeast in a recess, where we poured the yeast. Briefly set aside the flour aside.
4. The remaining water and pour salt 4 olive oil, or any plant which is odorless.
5. Pour the water and oil in the dough and now begin to knead the dough. First, knead with a spoon, and when absorbed by the water, we start knead by hand.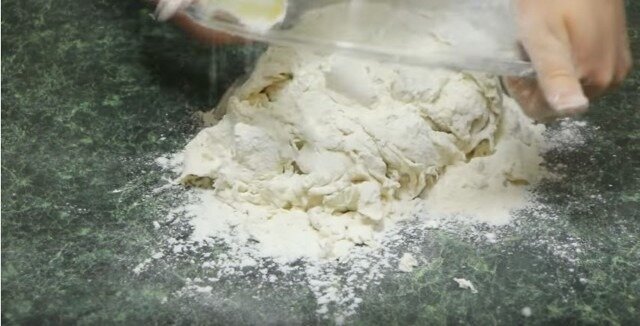 6. When all the water is completely absorbed, throw out the batter onto the prepared table. Continue to knead. The entire meal must intervene in the dough, the dough becomes elastic, smooth. In general, it is similar to the dough. From this point it is necessary to knead the dough for at least 7-10 minutes.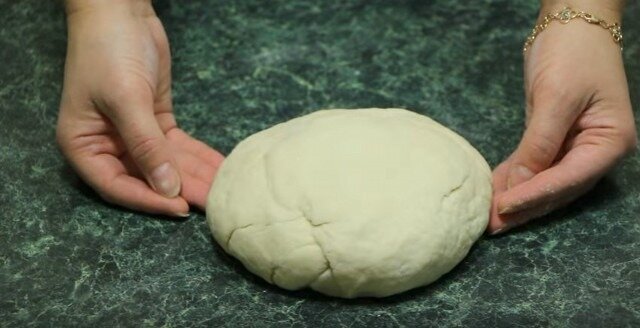 7. Dough our mixed. It is a dense, flexible and hands it does not stick. We place the dough in the bowl, cover with foil and put in a warm place to 1-1.5 hours.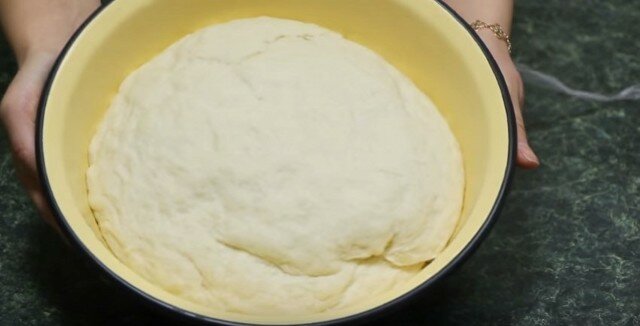 8. The time has passed, we open the dough. See how it rose. It was probably twice as much.
Prepare the filling for pizza
9. Prepare the filling. Filling an individual matter, as you know. You can take whatever you want. But still in the preparation of the pizza, there are moments that should not be neglected.
10. Turn on the oven to maximum heating. The electric oven is generally 250 ° -300 °.
11. The dough divide into 3-4 parts, it depends on what your shape, roll the cake in diameter form. Form of grease with vegetable oil and sprinkle with a little flour.
12. The shape of the cake and laid our top pour a little vegetable oil and brush distribute it across the surface.
13. Pour a little tomato juice and also distribute it across the surface. Sprinkle with oregano and season with salt seasoning.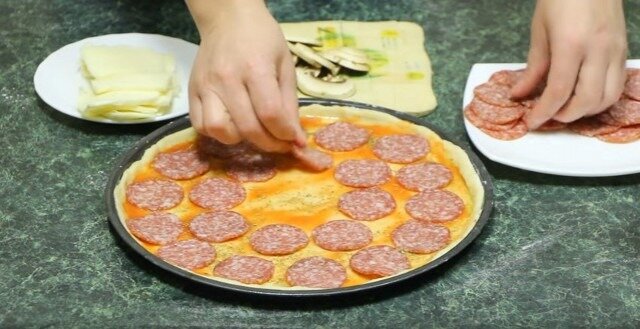 14. Top salami sausage spread, previously cut into thin slices.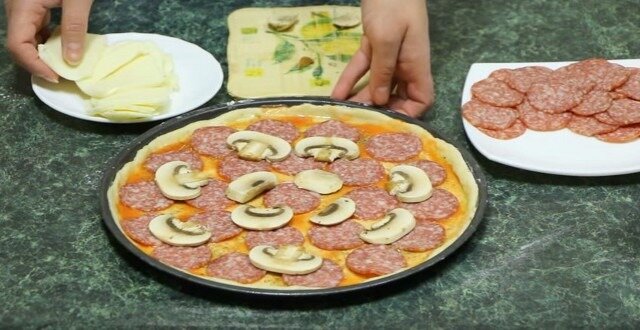 15. Then, spread thinly sliced ​​mushrooms. Do not try to put as many toppings where -That must look through and the dough.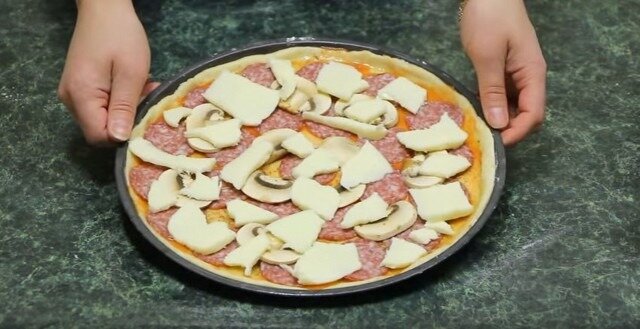 16. On top lay out our cheese can be sliced ​​fairly large pieces. Well that's all, assembling a pizza over, it now remains only to bake.
Pechom pizza oven
17. Oven we warmed up to 250 °. Pizza will be placed at the top level. If we had a gas oven, then it is necessary to place in the middle. Of course, if you can, the best pizza oven at 300 ° -320 ° -350 °.
18. Put the pizza in the oven for 8-10 minutes. Be sure to look for the test. As soon as it browns, and cheese is melted, pizza is ready. The exact time is difficult to specify. Everyone has their own baking conditions.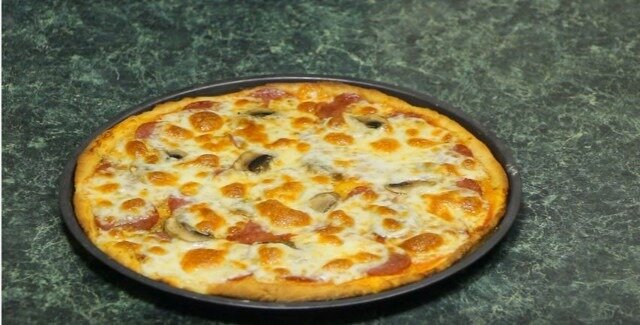 19. Pizza is ready. She turned ruddy, soft, juicy, aromatic and of course very tasty.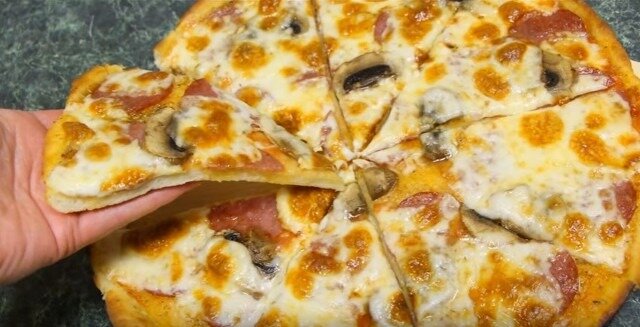 Cut into portions and We serve at the table.
Bon Appetit!
Simple and tasty pizza recipe in the oven
Pizza in the oven, it tastes good and is quite simple. See for this recipe.
Ingredients:
Dough:
flour - 200 g + 20 g
warm water - 120 ml
salt - 1 teaspoon
sugar - 1 tsp
Pressed yeast / dry - 4 g / 1 tsp
olive oil - 2 tablespoons
Filling:
tomato sauce - 3 tablespoons
Dried oregano - 1/3 tsp
Dried basil - 1/3 tsp
salami - 100 g
mozzarella - 125g
Preparation: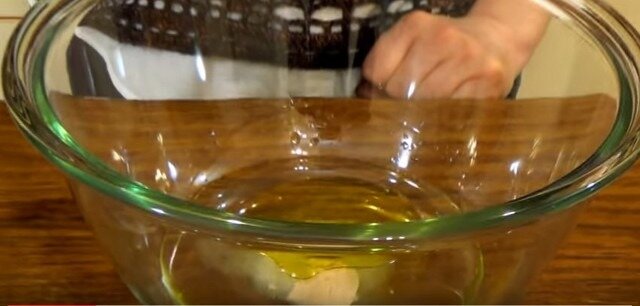 1. In a deep pour cup 120 g of water, add 4 g compressed yeast, add 1 teaspoon salt 1 teaspoon of sugar, pour 2 tablespoons of vegetable oil (preferably olive). All mix well.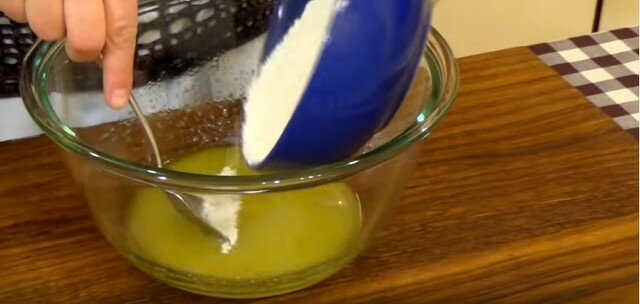 2. Pour 200 g flour into the mixture. Knead the dough for 5 minutes, first with a spoon, and then his hands.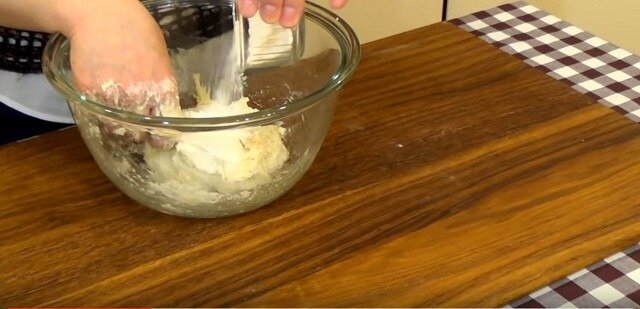 3. If the dough has turned watery, add a little more flour. Knead the dough a few more minutes.
4. Slightly round off dough cup will lay film and leave at room temperature for 1 hr.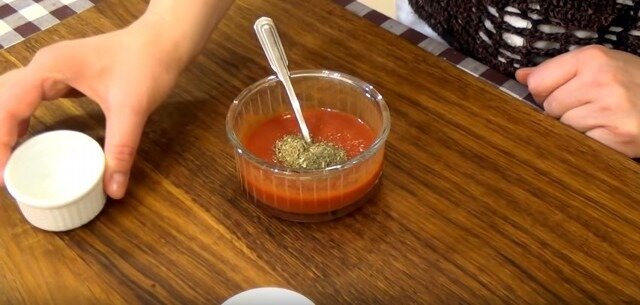 5. spread the tomato sauce in a small deep cup, add third teaspoon basil and oregano third teaspoon. All mix thoroughly.
6. Place in a baking oven and warm up to 250 °.
7. The dough has come. Work surface and sprinkle with flour.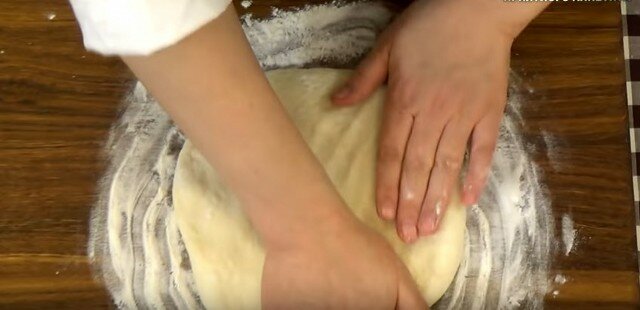 8. Stretch cake hands to a diameter of 30 cm.
We continue to stretch the cake.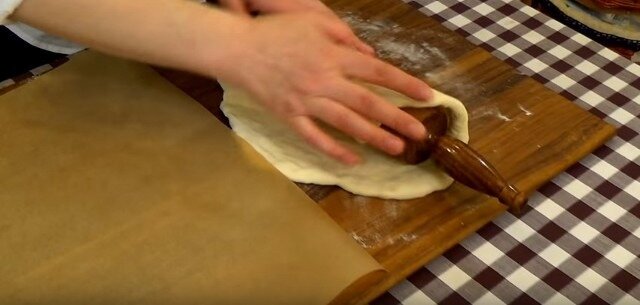 9. To transfer the cake to cheat her rolling pin.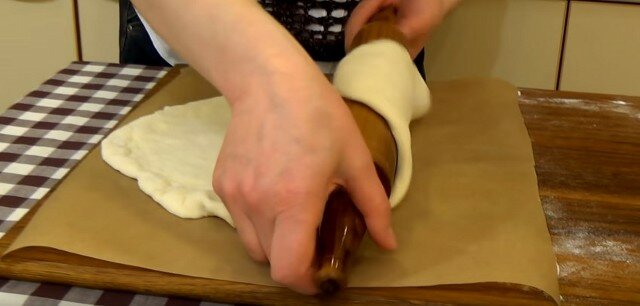 10. On a work surface spreads a sheet of parchment and roll out with a rolling pin on him our dough.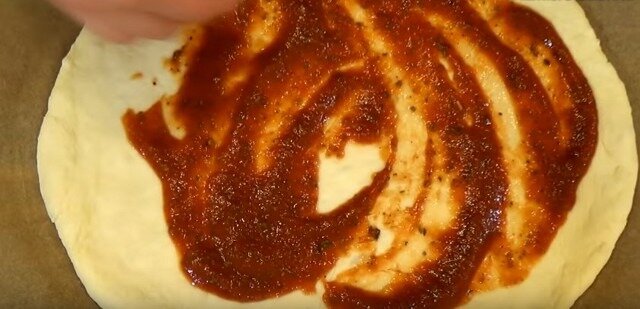 11. spreadable dough prepared sauce.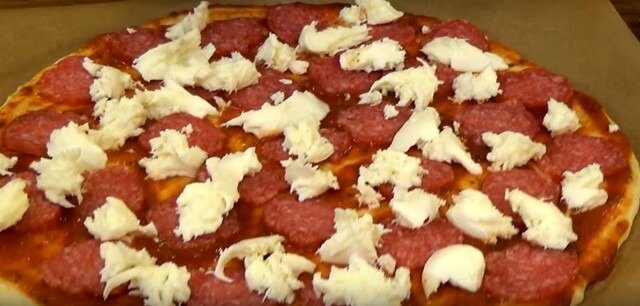 12. Put the sauce on top of slices of salami and mozzarella cheese spread, taking his pieces, not slicing, as usual.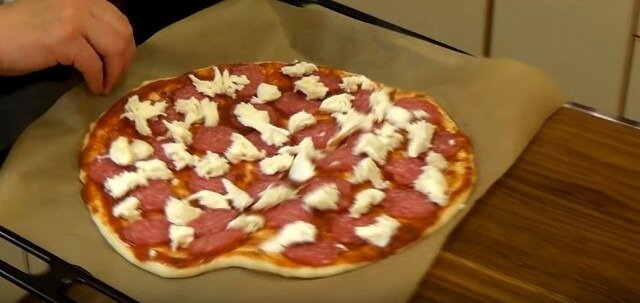 13. We reach out of the oven heated pan, not to burn, wear special gloves and contract the pizza on it with parchment paper. Put baking in a preheated 250 ° oven for 10-15 minutes.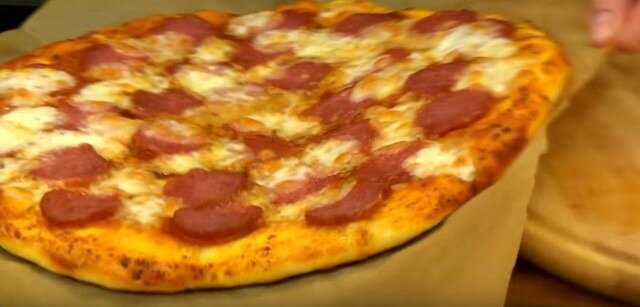 14. Our pizza is ready. Take out of the oven and detaching it from the baking sheet in the same manner as delayed, with the parchment paper on which a stand or dish where it will be cut. Pulling the paper out of the pizza, holding her hand.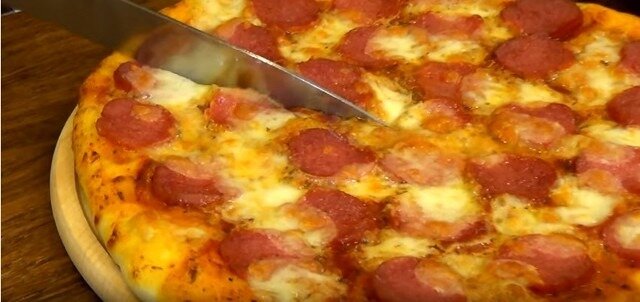 Look what a beauty. Cut the pizza into pieces and until We serve hot on the table.
Bon Appetit!
Pizza oven - home recipe with a photo
Ingredients:
For the dough:
Yeast - 1 packet
Sugar - 1/2 tsp
Flour - 2 cups
Vegetable oil
For the sauce:
Tomato paste - 300 g
Sugar - 1-1.5 tbsp
Onions - 0.5 heads
Garlic
Bay leaf
Basil
Salt
Freshly ground pepper
For filling:
Sausage of your choice
Parmesan cheese or any hard
Mozzarella cheese - this is no substitute
cherry tomatoes
basil leaves
Preparation: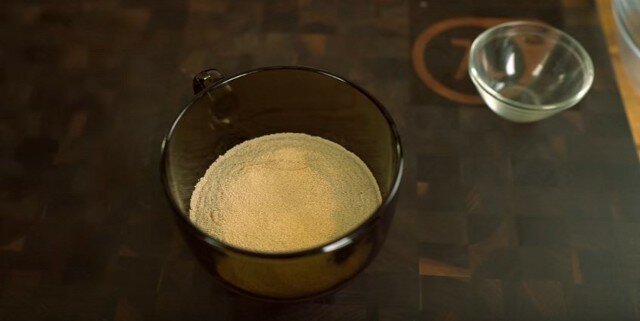 1. 50 grams of warm water, about 30 ° -35 ° sachet dissolve yeast. Take yeast based on the recommendations on the sachet of yeast.
I always put a little more yeast recommended amount.
If the yeast more dough can always obmyat to a normal state, and if the dough has risen, so has not risen, no longer do anything.
Mix trying to break up lumps. Add the yeast in 1/2 teaspoon of sugar and a little hurt, the yeast actively involved in the work.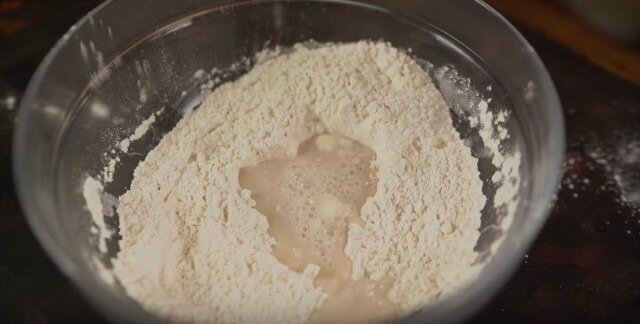 2. In a deep bowl pour 2 cups flour, half a teaspoon of salt. Gradually pour in the yeast, which we dissolved in warm water and immediately begin to interfere. Well poured somewhere 1/3 yeast and interfere until they have absorbed, pour 1/3 of the following, etc.
3. The dough we should be thick enough. It might seem at first very thick, but do not worry, earn yeast and it becomes much softer.
As you can imagine it is difficult to guess the proportions of a gram, everywhere has its own meal, so see for yourself. You can always add water if the batter seems too thick to you, or vice versa flour.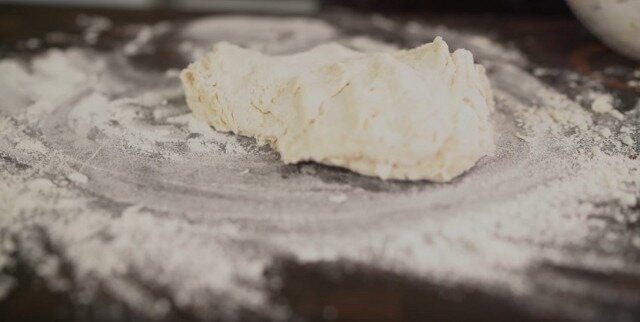 4. As soon as the dough will gather in little clumps, floured table and throw out to the dough.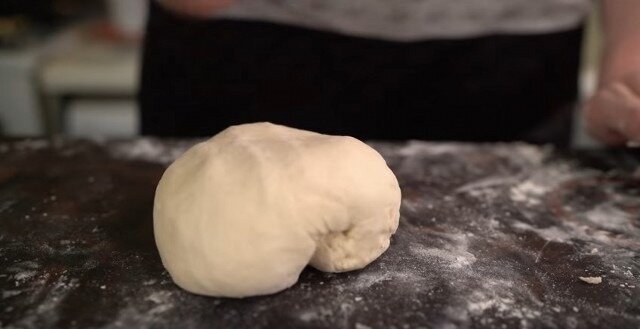 5. Mesim the dough for 5-7 minutes, it should get a neat piece of dough without any inclusions and cracks.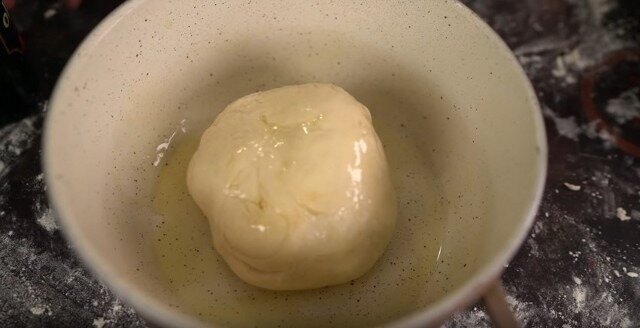 6. In the container, pour vegetable oil and rolled in the dough it from all sides. Put the dough in a warm place to 1-1.5 hours.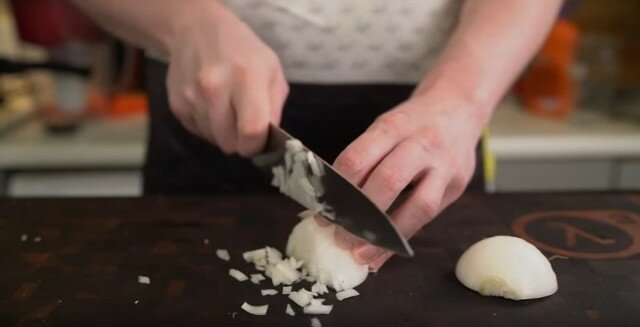 7. So far, prepare the sauce. Finely chop the onion.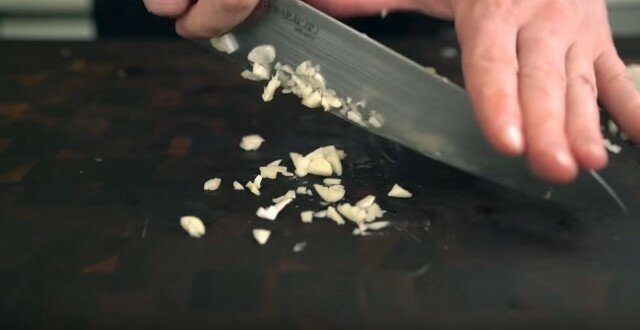 8. Very finely chop the garlic.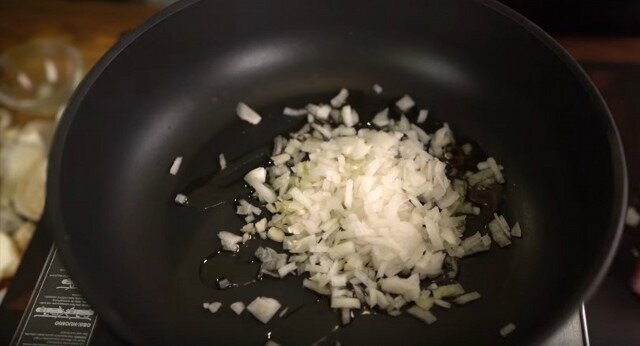 9. Fry the onion and garlic in a small amount of vegetable oil a couple of minutes.
10. Add to the pan tomato paste, yet without adding water. Let the paste in such a little fry thoroughly with the onion and garlic and absorb their scent. Warm up, stirring the pasta, a couple of minutes. You can drip a little oil in the pan.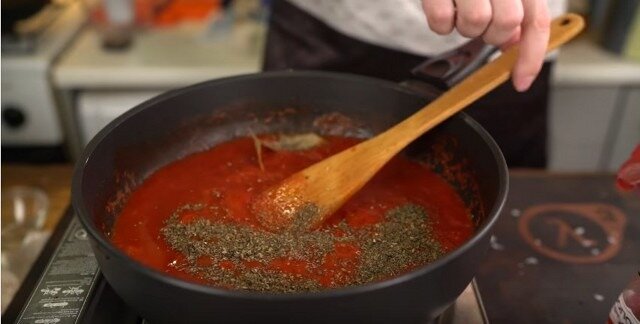 11. After a couple of minutes to add water. Dilute the paste to a state little thinner ketchup. Stir give more to stand until the water has evaporated, the sauce became like ketchup.
Adding a couple of bay leaves and basil necessarily, if any, can be fresh. Be sure to add a tablespoon of sugar, or a little more, to taste. The sauce should not be sour.
Add salt and freshly ground pepper, add it all to taste. Everything has to simmer, with occasional stirring, for 20 minutes, so that all the flavors mingled.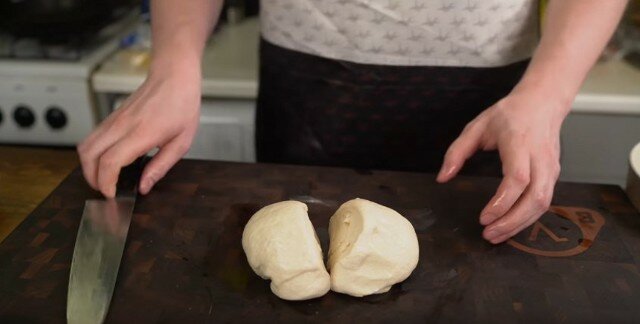 12. The dough was cut into 2 parts. We will do a fine pizza.
13. Of course it is best to stretch the dough hands, not a rolling pin to roll out, because plunger squeezes a lot of air out of cakes. But this is a subtlety, and can be rolled with a rolling pin. Consider the size of your baking dish.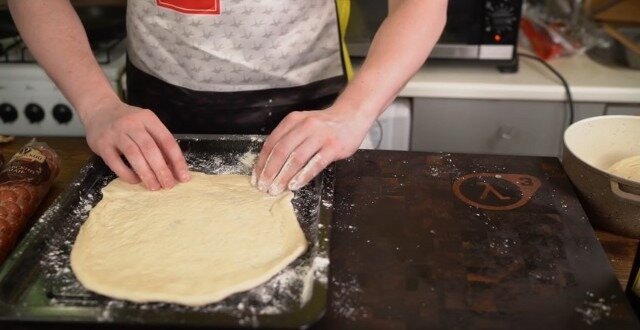 14. Form or baking can pour a little oil, sprinkle with flour and can be very easy to put a parchment paper. Today, the paper was not at hand. Sprinkle baking flour, laid back and a bit of our cake straighten it.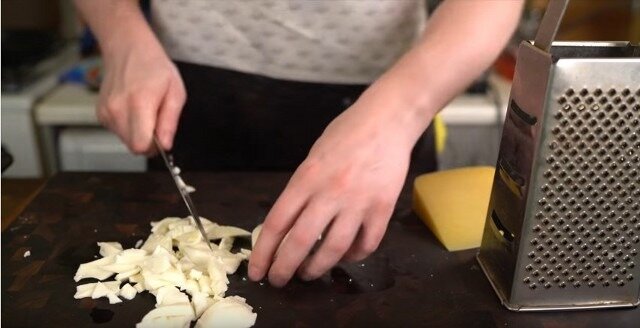 15. Cut the mozzarella cheese, large plates, and then crumble on a fairly small pieces. This gives the cheese filling viscosity.
16. On a coarse grater rub the cheese. It can take even a little less than mozzarella. This gives the cheese flavor. You can take any other hard cheese, if not parmesan. Yes, and it's pretty expensive.
17. Smoked sausage cut into thin slices. Do not take soy sausage or dose anything cheap, it will spoil the taste of the pizza.
18. Cut cherry tomatoes into 2-3 pieces.
19. In a preheated oven's highest temperature, of course if you are not a culinary marvel over, put on a baking sheet 2-3 minutes with tortilla to grab a bit of the dough. Of course, if you have a modern, powerful oven, you can bake a cake together once filled.
20. Grease a cake to our delicious sauce.
21. Spread on sliced ​​sausage sauce, sprinkle with Parmesan cheese.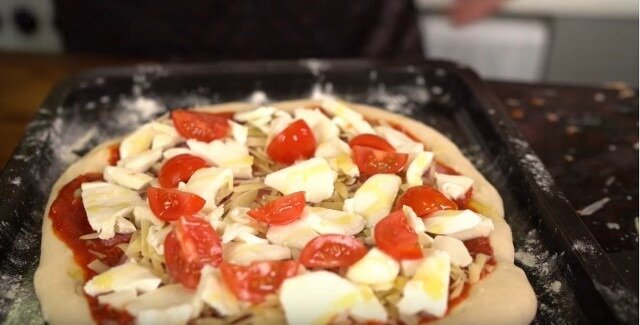 22. Put the top slices of mozzarella and tomatoes. Sprinkled with olive oil.
23. All put a pizza in the oven until golden crusts. It should take a little time from 5 to 15 minutes. It all depends on the oven. Watch out for the test and for the cheese, it should melt.
24. Take out the pan from the oven and see what a miracle we have. Yes, it turned out, we are not very thin, but what appetizing.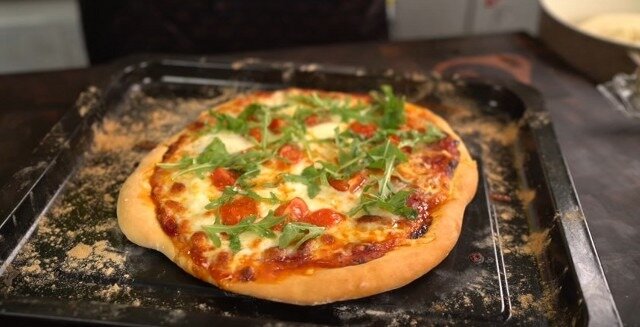 25. Decorate with greens. Please note, the pizza was not stuck.
Cut into pieces. See what he's doing mozzarella, it is stretched on two feet up.
Yummy.
Bon Appetit!
Video - How to cook a pizza Quickly
Video - TOP5 ways to make delicious pizza
Pizza oven puff pastry - the recipe with a photo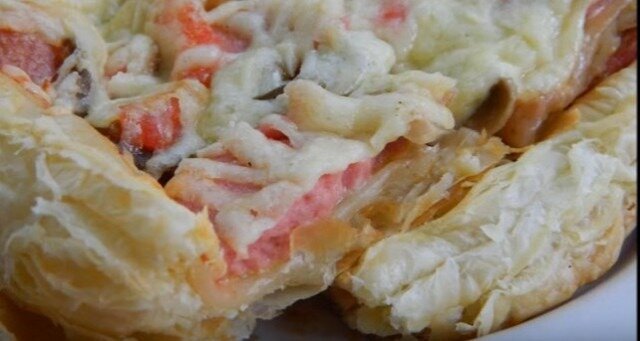 Ingredients:
Puff pastry - 1 pack (possible both without yeast, and yeast)
Fried mushrooms
Sliced ​​tomatoes - 1 pc.
Sardelʹka - No 1-2.
Vegetable oil
Mayonnaise
Ketchup
Cheese
Preparation: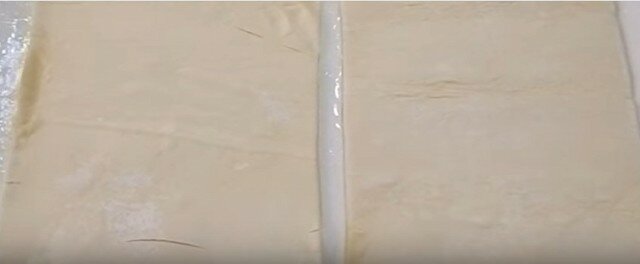 1. defrosts bought puff pastry, we without yeast (but it is not particularly important), and simple to deploy and is divided into two rectangular plate, not roll out and laid on oiled baking.
2. extruded onto each sheet a little mayonnaise and ketchup
spread evenly around the perimeter.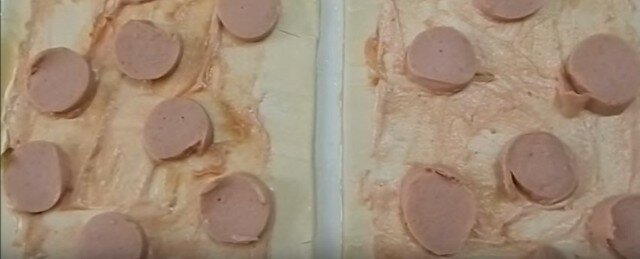 3. Put the sliced ​​sausage sauce.
4. Next a layer of fried mushrooms. We love mushrooms so we spread a little more.
5. Put the top chopped tomatoes and grated hard cheese.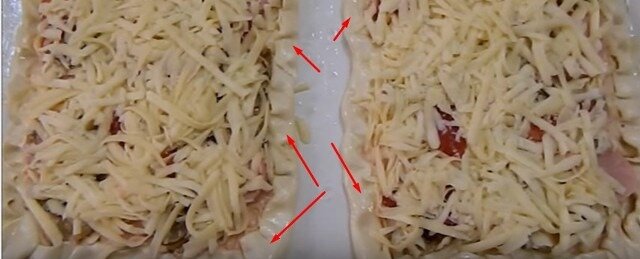 6. tuck the edges on all sides, and gently pat or presses the filling, it will not drop from the pizza when the dough starts to warm to rise. A puff pastry necessarily begin.
7. Put the pan in the oven, preheated to the maximum and look when the cheese is melted and the most important edge blushing test. This can take anywhere from 5 to 20 minutes depending on the oven. So what determines the dough and cheese.
8. Take out of the oven. See how blushed.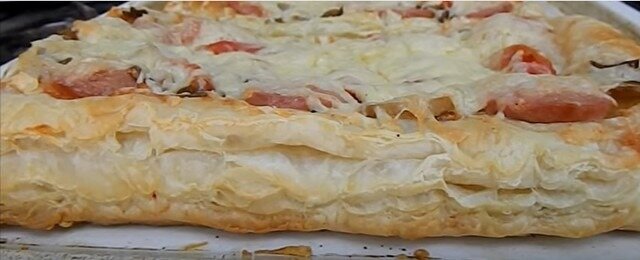 9. The pizza we got up (swollen), but when it cools down, it obmyaknet and sit.
Well, cut and We serve. All have been waiting for.
Bon Appetit!
Video - Fast pizza in the oven in the home of puff pastry with chicken
Video - Pizza from puff pastry
Five delicious pizza recipes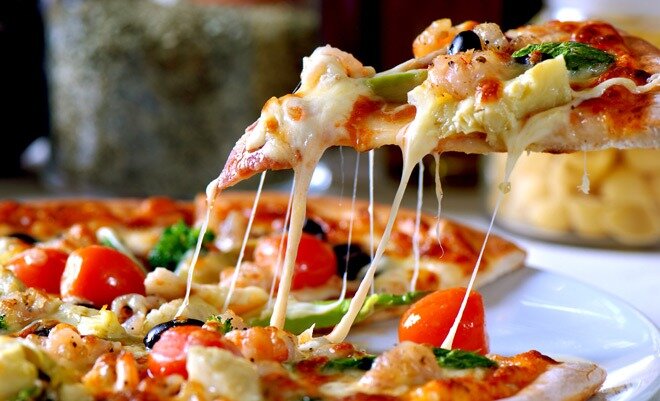 You know, I recently watched a film about the pre-war Italy, and was surprised at how well we're all the same people. As equally developed our society. Of course there were some nuances. Read more ….
Bon Appetit!
Write, desire, estimate, all in the comments.
Choose language