Shells stuffed with Italian
Difficulty:

legko
Equipment:

colander
Techniques:

cooking, stuffing
For this recipe you will need to shell:
ricotta cheese - 500g
olive oil - 8 tablespoons
Garlic - 1 clove
salt and pepper - to taste
rucola (beam) - 2 pcs.
basil (beam) - 2 pcs. basil - a sort of half-shrubs or shrubs of the family Labiatae. Herbs, can be used as ... »href =» / dictionary / 193 / bazilik.shtml »>
pasta shells (large) - 400g
cherry tomatoes - 250g
white wine vinegar - 3 tbsp
sugar - 1 pinch.
The recipe of shells:
To prepare Mussels stuffed in Italian must be ...
Stir ricotta cheese with 2 tbsp. l. olive oil. Skip the garlic through a press and mix with cheese. Season. Separated from the stems of the leaves of basil. Finely chop the basil and half the arugula and toss with cheese mass.
Boil the mussels, discard in a colander and let drain. Tomatoes Wash and cut in half. Stir vinegar with salt, pepper and sugar. Whisking, pour in 6 tablespoons. l. olive oil. Starting shells with cheese mass.
Arrange on plates remaining arugula, tomatoes and pour the sauce. Top with seashells. On request, served with pita bread.
---
Average: 0.00


Votes: 0
---
photo-recipe step by step
4 photos
Pasta with seafood
5 photos
Macaroni with cheese and mushroom sauce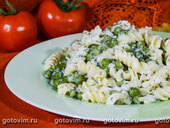 6 photos
Pasta with peas and yoghurt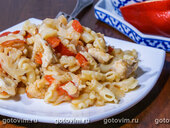 5 photos
Pasta with chicken and chili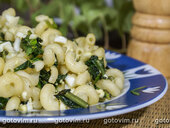 4 photos
Pasta with spinach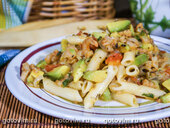 6 photos
Penne with shrimp and avocado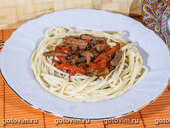 6 photos
Pasta with beef and peppers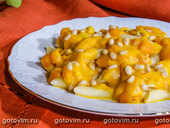 5 photos
Penne with carrot sauce
Another section recipes ...
Pasta with cheese
Pasta boiled in plenty of salted water. Finished pasta should not be too soft. The water was decanted, pasta seasoned with salt
read the recipe
Pasta with ham and mushrooms
Boil pasta in salted water until tender. Discard in a colander and let drain.
In the deep frying oil in fry diced
read the recipe
Pasta with broccoli and chili crumbs
Put the bread in a food processor and chop until a crumb. Add chili.
Cut bacon fried in a large pan over 5-6 minutes d
read the recipe
Pasta with tomato sauce
Onions and garlic are my, clean, and then finely chop. Fry onion on low heat until half in a skillet with olive oil. Later - neposredstveno
read the recipe
Vote
What is your favorite meat soup:

chicken soup
beef soup
soup with pork
mutton soup
other meat
I do not like
previous polls
Choose language