Chili con carne

This Mexican dish made from ground beef with vegetables, beans and hot spices. It is served to the table with boiled rice or tortillas tortilla.
Ingredients
vegetable oil




1 tablespoon

large onion




1 piece.

red pepper




1 pc.

peeled garlic cloves




2 pieces.

chili powder




1 tsp with slide

ground paprika




1 tsp

ground cumin




1 tsp

ground beef




500 g
bouillon cube with beef flavor




1 pc.

Sliced Tomatoes Preserved




400 ml

dried oregano




1/2 tsp

Sahar




1 teaspoon

tomato paste




2 tablespoons

Canned red beans




400 ml

rice




supply

cream




supply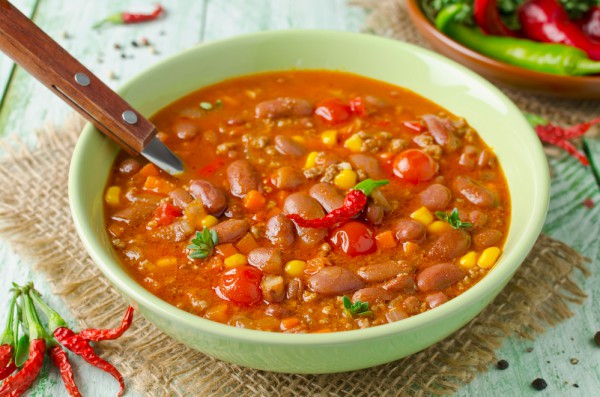 1. Cut 1 large onion into small cubes. Remove the seeds from the 1 red pepper and finely chop it. Chop 2 cloves of garlic.
2. Preheat a frying pan with oil and fry the onion until soft. Add garlic, red pepper, 1 teaspoon heaped sharp chili powder, 1 tsp paprika, 1 tsp ground cumin. Stir and cook for another 5 minutes.
Read also: Chili con carne in multivarka
3. Add and brown 500 grams of ground beef, breaking up lumps spatula.
4. Crumble bouillon cube in 300 ml of hot water. Pour into the pan with the minced meat. Open 1 can chopped tomatoes, add to the pan. Pour ½ teaspoon dried oregano 1 tsp sugar, salt and pepper. Add about 2 tbsp tomato puree and stir the sauce.
5. Bring to the boil, mix and cover. Cook 20 minutes, stirring from time to time. If necessary, pour a little water.
6. Add red beans without liquid, bring to the boil and cook for 10 minutes, adding a little water. Try, and at the request of another season again. Cover with a lid, turn the heat off and leave the chili con carne for 10 minutes before serving.
7. Serve with sour cream and boiled rice.
Soup with ground beef and melted cheese Recipes

Potato roll stuffed with meat Recipes

A simple recipe for spaghetti with meatballs Recipes

Chili con carne: Recipes
Choose language